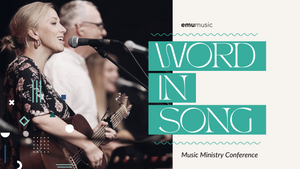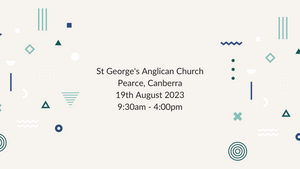 About
In these past few years, most of us have experienced a time of extraordinary disruption in our churches. More than ever, we need to be clear on what the Bible has to say about singing and its place within the church. At this year's Word In Song Conference, we'll be thinking about how to create a healthy culture of singing, and we will be offering a number of practical seminars to help leaders, musicians and sound technicians grow and develop their skills and gifts. As always, we want you to be equipped and encouraged by God's word, and to leave with useful practical skills and ideas for your music ministry. Come and join us for a fun and foundational day of training for your church music team! 
Program
9:00am: Doors and registration open
9:30am: Main Session 
10:40am: Break
11:10am: Church Music Masterclass
12:10pm: Lunch (provided)
1:10pm: Seminar 1
Leading a team 
Song Leading 
Drums and Bass 
2:15pm: Seminar 2
Leading from Guitar & Piano
Ministry of Sound - FULL
Song Selection and Service Planning
A Career in Music Ministry?
3:20pm: Final Session
4:00pm: Conference Close
For seminar descriptions click here. Please note: seminars are subject to change.
Lunch is included in the ticket price.
Location: St George's Anglican Church, Pearce, Canberra
Frequently Asked Questions
1. Is there a group discount?
Yes! Group discounts of $10 off per ticket are available on General Registration tickets only for groups of 5+. Please use the code WISGROUP at checkout. Alternatively, you can contact us at hello@emumusic.com for a unique code for your group so that you can all sign up individually at a discounted rate.
2. Who is this day useful for?
Every member of a church music team, especially those starting out in this ministry. At nearly every conference we meet someone who tells us they wish they had brought the whole team along - as listening and learning together makes the biggest difference back in your church. 
3. I'm a pastor or service leader - is this day useful for me?
Yes! The ministry of the word in song flourishes when it deliberately complements the spoken word. As the leader of the congregation's praise under Jesus, we hope you'll see the responsibility and joy of overseeing the music ministry at your church. What's more, your musicians will find it a great encouragement to see you supporting their ministry.

4. I've been doing music for many years. Will I learn anything new?
Most definitely. Many people come to Word In Song simply for the refreshment, encouragement and fellowship with those doing similar ministry.

5. We are a small church with few resources - will this day be relevant?
Yes! We love helping smaller churches work out how to effectively use their resources to lead singing. There will be lots of opportunities for applying biblical and practical principles to every context.

6. Will this be a Covid compliant event?
Yes. Australian Government advice is that masks are no longer required indoor gatherings or for singing. However, please do still wear a mask if you would prefer.


Cancellations

Delegate cancellations will incur a $10 administration fee. Sorry, no refunds will be given for cancellations within one week of the event. However, if you have tested positive for Covid and are required to isolate, we are happy to provide a full refund of your registration. In the event that we need to cancel or postpone the conference, Emu Music will provide a full refund.

Communications

By registering you are agreeing to receive communication about this event from Emu Music. We will email you before and after the event in order to keep you informed and gather feedback.