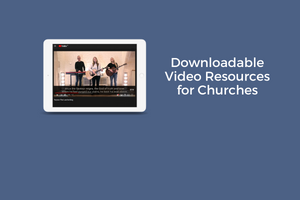 Downloadable Video Resources for Churches
---

*Whilst we initially created these videos for churches to use for their online services during the pandemic, we recognise that they will still be useful for many in this time of transition, and for less-resourced churches to use in their in-person services. We're happy to give you permission to use these videos, provided the appropriate copyright information is included (details above, or see emumusic.com/copyright if you have further questions).

Our videos may also be used under the CCLI Streaming and StreamingPlus Licenses.
Or check out our YouTube playlists for Song Leading, Kids & Christmas videos.
VIDEOS
1,2,3,4,5 Jesus Christ Is Now Alive
1,2,3,4,5 Jesus Christ Is Now Alive, Emu Music, © 2004 Simone Richardson (no CCLI

All People That on Earth Do Dwell
All People That on Earth Do Dwell, Emu Music, © 2018 Alanna Glover, Louis Bourgeois, William Kethe, CCLI Song Number 7125862

Apostles' Creed
Apostles' Creed, Emu Music, © 2022 Tim Chester, Liv Chapman, Philip Percival, James McDonald, Alanna Glover, CCLI Song Number 7201504

Behold
Behold, Emu Music, © 2018 Liv Chapman, Curtis Smith, CCLI Song No: 7115560

Clap Your Hands
Clap Your Hands, Emu Music, © 1998 Kate & Philip Percival, CCLI Song No: 2447450

Consider Christ
Consider Christ, Emu Music, © 1996 Bryson Smith & Philip Percival, CCLI Song No: 1980516

Creation Awaits
Creation Awaits, Emu Music, © 2019 Liv Chapman, Alanna Glover, Michael Morrow & Philip Percival, CCLI Song No: 7134602

Crown Him With Many Crowns
Crown Him With Many Crowns, Emu Music, © 2022 Matthew Bridges, Godfrey Thring, Alanna Glover & Jamie Dallimore, CCLI Song No: 7192547

Fairest Lord Jesus
Fairest Lord Jesus, Garage Hymnal, © 2011 Alanna Rodgers, Andrew Massey, Andy Judd, Greg Cooper, Richard Fenton, Stephanie Vanden Hengel, Trent Prees, CCLI Song No: 5961531

For The Beauty
For The Beauty, Emu Music, © 2022 Folliott Sandford Pierpoint, Conrad Kocher, Alanna Glover and Philip Percival, CCLI Song No: 7192541

Grace Awaiting Me
Grace Awaiting Me, Emu Music, © 2013 Simone Richardson & Philip Percival, CCLI Song No: 7006994
God Is A Holy God
God Is A Holy God, Emu Music, © 1998 Paul Sheely, CCLI Song No: 2389604
Hallelujah (Live)
Hallelujah, Emu Music, © 2019 Liv Chapman, Francis Pott, CCLI Song No: # 7144163
Hallelujah, What A Saviour!
Hallelujah What A Saviour, Emu Music, Philip Bliss © 2021 Liv Chapman & Jamie Dallimore, CCLI Song No: 7192536
He Must Be God
He Must Be God, Emu Music, © 2003 Bryson Smith & Philip Percival, CCLI Song No: 3991730
Hear Me, Lord
Hear Me, Lord, Emu Music,  © 2021 Liv Chapman & Alanna Glover, CCLI Song # 7169080
Hear Our Prayer
Hear Our Prayer, Emu Music, Love M. Willis, arrangement © 2014 Greg Cooper & Andrew Judd, CCLI Song No: 7033935
Here We Stand
Here We Stand, Emu Music, © 2022 Sam Brewster, Niki Shepherd, Alanna Glover, Tom Brewster, CCLI Song No: 7201507
Holy, Holy, Holy
Holy Holy Holy, Emu Music, Reginald Heber, John Dykes, arrangement © 2022 Alanna Glover, CCLI Song No: 7192546
How Great Thou Art
How Great Thou Art, © 1949 & 1953 Stuart Wesley Keene Hine Trust, CCLI No #14181
How Sweet the Name
How Sweet the Name, Emu Music, © 2016 Alanna Glover, Liv Chapman & Philip Percival, CCLI Song No: 7069099
Hymn of the Saviour
Hymn of the Saviour, Emu Music, © 2019 Alanna Glover & Philip Percival, CCLI Song No: 7134330
Hymn of the Saviour (Live)
Hymn of the Saviour, Emu Music, © 2019 Alanna Glover & Philip Percival, CCLI Song No: 7134330
I Cannot Tell
I Cannot Tell, Emu Music, William Young Fullerton © 2018 Alanna Glover, CCLI Song No: 7125860

I Heard The Voice Of Jesus Say (acoustic)
I Heard The Voice Of Jesus Say, Emu Music, Horatius Bonar, arrangement © 2018 Alanna Glover, CCLI Song No: 7125864

I Heard The Voice Of Jesus Say (full band version)
I Heard The Voice Of Jesus Say, Emu Music, Horatius Bonar, arrangement © 2018 Alanna Glover, CCLI Song No: 7125864
I Will Sing the Wondrous Story
I Will Sing the Wondrous Story, Emu Music, Francis H. Rowley, Rowland Hugh Prichard, Philip Percival, Alanna Glover, CCLI Song # 7125870

Immortal, Invisible
Immortal Invisible, Emu Music, Walter C. Smith & St. Denio © 2022 Alanna Glover & Philip Percival CCLI Song No: 7192537

Jesus Is the King
Jesus Is the King, Emu Music, © 2003 Paul Sheely (no CCLI)
Jonah's Prayer (Lyric Video)
Jonah's Prayer, Emu Music, © 2018 James West, Curtis Smith, Liv Chapman, CCLI Song No: 7115794
King Of Love
King Of Love, Emu Music, © 2016 Liv Chapman & Alanna Glover. Based on the hymn by Henry W. Baker, CCLI Song No: 7081709
Love Divine
Love Divine, Emu Music, W. P. Rowlands, Charles Wesley, arrangement © 2018 Alanna Glover, CCLI Song No: 7125865
My Hope Is Built
 My Hope Is Built, Emu Music, Edward Mote, William B. Bradbury, arrangement © 2022 Philip Percival & Alanna Glover, CCLI Song No: 7189243
My Song Is Love Unknown
MMy Song Is Love Unknown, Emu Music, Samuel Crossman, John Ireland © 2022 Philip Percival, CCLI Song No: 7199757

Never Alone
Never Alone, Emu Music, © 2004 Philip Percival, Simone Richardson, CCLI Song No: 4928159
No Other Name
No Other Name, Emu Music, © 2010 Trevor Hodge, CCLI Song No: 5737284
O Breath Of Life
O Breath Of Life, Emu Music, Elizabeth Ann Porter Head, arrangement © 2009 Trevor Hodge, CCLI Song No: 5439290
O Worship The King
O Worship The King, Emu Music, Robert Grant © 2021 Alanna Glover & Philip Percival CCLI Song No: 7192539

Peace Unto Us
Peace Unto Us, Emu Music, © 2015 Liv Chapman, Alanna Glover, Philip Percival, CCLI Song No: 7115462
Praise, My Soul, The King Of Heaven (acoustic)
Praise, My Soul, The King Of Heaven, Emu Music, Henry Francis Lyte, arrangement © 2018 Liv Chapman, Philip Percival, CCLI Song No: 7125791

Praise, My Soul, The King Of Heaven (full band version)
Praise, My Soul, The King Of Heaven, Emu Music, Henry Francis Lyte, arrangement © 2018 Liv Chapman, Philip Percival, CCLI Song No: 7125791

Praise To The Lord (acoustic)
Praise To The Lord, Emu Music, Joachim Neander, Catherine Winkworth, Lobe den Herren, arrangement © 2018 Alanna Glover, CCLI Song No: 7125857

Praise To The Lord (full band version)
Praise To The Lord, Emu Music, Joachim Neander, Catherine Winkworth, Lobe den Herren, arrangement © 2018 Alanna Glover, CCLI Song No: 7125857

Rejoice, The Lord Is King
Rejoice the Lord Is King, Emu Music, Charles Wesley, arrangement © 2019 Philip Percival & Alanna Glover, CCLI Song No: 7125867
See Him Coming
See Him Coming, Emu Music, © 2003 Mark Peterson, CCLI Song No: 4289410
So Great Is Jesus' Love
So Great Is Jesus' Love, Emu Music, © 2009 Philip Percival, Simone Richardson, CCLI Song No: 5596449 
Sorrow Fades
Sorrow Fades, Emu Music, © 2020 Alanna Glover & Philip Percival, CCLI Song No: 7168141

Take Heart (Live)
Take Heart, Emu Music, © 2019 Liv Chapman, Michael Morrow, CCLI Song No:  7145086
Thine Be The Glory
Thine Be The Glory, Emu Music, Edmond Budry, Richard Hoyle, George Frideric Handel © 2022 Alanna Glover & Philip Percival, CCLI Song No: 7192545
This Is The One
This Is the One, Emu Music, © 2016 Alanna Glover, Liv Chapman, CCLI Song No: 7076787
This Life I Live (acoustic)
This Life I Live, Emu Music, © 2009 Michael Morrow, CCLI Song No: 5592986

This Life I Live (full band version)
This Life I Live, Emu Music, © 2009 Michael Morrow, CCLI Song No: 5592986

Undivided
Undivided, Emu Music, © 2010 Rob Smith, CCLI Song No: 5881312
We Are One (Live)
We Are One, Emu Music, © 2020 Claire Williams & Alanna Glover, CCLI Song No: 7145090
We Belong To The Day
We Belong To The Day, Emu Music, © 2006 Michael Morrow, CCLI Song No: 4778282
We Declare
We Declare, Emu Music, © 2016 Alanna Glover & Liv Chapman, CCLI Song No: 7069098
What A Friend
What A Friend, Emu Music, Joseph Scriven, Charles Crozat Converse © 2022 Alanna Glover, CCLI Song No: 7192543

Who Is Like You?
Who Is Like You?, Emu Music, © 2019 Alanna Glover, Liv Chapman, CCLI Song No: 7153732

Who Is This Man
Who Is This Man, Emu Music, © 1998 Paul Sheely, CCLI Song No: 2447584
Won My Heart (acoustic)
Won My Heart, Emu Music, © 2016 Liv Chapman & Alanna Glover, CCLI Song No: 7081708

Won My Heart (full band version)
Won My Heart, Emu Music, © 2016 Liv Chapman & Alanna Glover, CCLI Song No: 7081708

Your Word (acoustic)
Your Word, Emu Music, © 2017 Liv Chapman, Alanna Glover, Philip Percival, CCLI Song No: 7091582
Your Word (full band version)
Your Word, Emu Music, © 2017 Liv Chapman, Alanna Glover, Philip Percival, CCLI Song No: 7091582

-------------------------------------------------------------

Christmas Songs

Did You Know?
Did You Know?, Emu Music, © 2012 Philip Percival, Simone Richardson, CCLI Song No: 6424170

Hark the Herald Angels Sing
Hark the Herald Angels Sing, Emu Music, Charles Wesley, Felix Mendelssohn, arrangement © 2020 Liv Chapman, CCLI Song No: 7165530

Joy To The World
Joy To The World, Emu Music, Isaac Watts, George Frederic Handel, arrangement © 2020 Philip Percival, CCLI Song No: 7165525 

Maker, Made A Child
Maker, Made a Child © 2020 Abi Marthinet-Glover, Alanna Glover, Jake Marthinet-Glover, CCLI Song No: 7164600
O Come, All Ye Faithful
O Come, All Ye Faithful, Emu Music, C. Frederick Oakeley, John Francis Wade, arrangment © 2020 Liv Chapman, CCLI Song No: 7165528

Saviour In a Manger
Saviour In a Manger, Emu Music, © 2019 Alanna Glover, CCLI Song No: 7139623

---