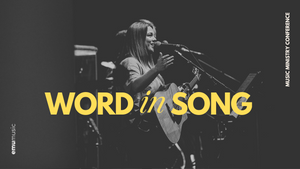 Music Ministry Conference
---
Word in Song is a music ministry training conference designed to equip your church in beautiful, biblical and transformative singing. 
What does the Bible say about our singing and worship? How do we lead singing or play our instruments in a way that helps the congregation's praise? How do I create a healthy culture amongst my music team? Our Word In Song Conferences are centred around the Bible's teaching about singing, and applied through practical seminars, singing, fellowship and discussion. If you're a church musician, leader, service planner, pastor, sound technician or just interested in church music - then come along to be equipped, excited, resourced and refreshed in God's purposes for your church's music ministry, whatever your size or musical tradition. 

Want to find out more about training opportunities for your music team? We'd love to hear from you! Get in touch here.   
Upcoming Events
Word In Song Conference Wollongong, Australia  
28th October 2023
Figtree Anglican, Wollongong
Word In Song Conference + Concert Perth, Australia  
10th-11th November 2023
Westminster Presbyterian, Bull Creek
Word In Song Conference Sydney, Australia  
16th March 2024
PLC Sydney, Croydon
Word In Song Conference Sydney West, Australia  
15th June 2024
Grace West Anglican, Glenmore Park
We also run Word in Song Workshops, which are in-house training events for church music teams.
Get in touch
if you're interested in a Workshop for your team.
Conference Overview
At the heart of the Word In Song conference is Bible teaching and practical help for your ministry. Three key elements of the day are:
1. Bible Talk – Our main session is where we sing, meet the team and hear from God's word about his purposes for the church, music, and worship. The key idea is that our singing is fundamentally a ministry of the word of Christ, empowered by the Holy Spirit (Col 3:16; Eph 5:18-20).
2. Church Music Masterclass – A fun and informative session where we look at how musical ensembles work, especially in the context of congregational singing, and where we talk about how to lead great singing with whatever musical resources you have available.
3. Seminars – Specialist sessions covering a range of practical, theological, and leadership issues, with lots of time for questions and discussion.
Seminar Descriptions
Church Music Masterclass: In this session we aim to cover everything you'll ever need to know about leading excellent singing in your church – whatever your church size or preferred style of music! We'll look at how (as a music team) we give priority to the congregation's voice, and how we can use any instrument and vocal combination to provide a creative and confident lead for the singing in your church. Helpful for everyone – musicians, vocalists, song leaders, sound team, pastors.
Song Leading: In many ways, the song leader is the single most important person in leading great congregational singing. We will look at the biblical basis for having a song leader, but will aim to spend most of our time on the practicalities of how to lead singing well – including mic technique, what to say, how to teach new material etc., as well offering some constructive criticism to those who are happy to stand up and have a go! Helpful for singers, song leaders, pastors.
Song Selection and Service Planning: Choosing songs thoughtfully and intentionally is key to an effective word-based music ministry. However, there is so much to consider when creating services week in and week out – and it can be hard to keep our focus on what is important! In this workshop we'll think about how to create a well-rounded repertoire of songs for our church and talk through all the factors we need to consider when choosing from this list each week. We'll also consider how style, instrumentation, lyrical content and liturgy affect our song choices. Helpful for pastors, singers, song leaders, songwriters.
Leading a Team: Effective music ministry can't happen without someone in charge. But many of us land in the job of music director or band leader with little experience or knowing how to take the ministry forward. This session will look at the role of those in leadership, how to shape a team culture, how to shape a culture of singing in the church, and run an effective rehearsal. Helpful for song leaders, music team leaders, music directors and those aspiring to these roles!
Leading from Piano: For many churches the piano is the key instrument in leading congregational singing. But often we lack the skills to turn years of lessons and exams into playing in a helpful style for church leading. We'll look at contemporary keyboard techniques and discuss how and when to leave the score behind! We'll also discuss the differences between playing on your own and in a band. Helpful for pianists and song leaders.
Leading from Guitar: This session will look at how the guitar can be used most effectively in facilitating congregational singing, as part of a band but also on your own. We will look closely at use of capos, strumming rhythms, and how to play hymns on a guitar. Helpful for guitarists and song leaders.
Drums & Bass: What does it take to create a solid foundation to a rhythm section? The bass and drums are the 'engine room' of any church band. We will look at: our roles, finding a part, locking in together, time, technical skills, playing the song, groove vocabulary and more. 
Ministry of Sound: This session is for sound people and musicians – it is about training your ears and the practical implications of the church being called to hear God's word: spoken and sung. We will consider how we play for different sized congregations, volume, balance, the critical mass of a space, how to self-mix, ambient sound, and how to foster good relationships between musicians, the tech team, and congregation. Helpful for music pastors, musicians, sound technicians.

Sound & Mixing: This session is the more practical and technical side of creating a great mix for services. 

Singing in Times of Sorrow: How do we 'weep with those who weep' in a broken world? How do we lament well as a church? How do we choose songs to sing in our sadness? Can praise and lament co-exist? This seminar explores these timely questions to strengthen and help us in real-life ministry where things are often messy, sad and hard.

God's Purposes for Christian Singing: We are all involved in singing on a Sunday, whether we're up the front or not, or whether we can sing in tune or not! So what does the Bible have to say about our singing and how should our churches be shaped by it? In this session, we'll look at all the ways God intends to shape, teach, grow and transform us through the amazing ministry of the Word in song. 

Music for Kids and Youth: Music and singing is one of the most effective ways to teach and train our kids and young people in Bible knowledge and godliness. But often we feel under-resourced or unable to create and sustain a singing culture in our children's and youth ministries. In this seminar, we'll look at the why, what and how of music for kids and young people. Be prepared to get in touch with your inner-child or teenager and get ready for some 'hands-on' action as we consider singing with kids together.

Songwriting: What makes a song work for a congregation to sing? We'll explore how to create lyrics that are true, poetic and relevant, and what musical issues are relevant to writing a beautiful, memorable and singable corporate song.

Single-Note Instrument: What is the role of a melody instrument in a church band, and how can it be used to best help the congregation to sing? This seminar will look at the purpose, function, and joys of being a melody instrument in a church context!

Creativity in Congregational Music: Good ensemble playing requires understanding your place in the group and knowing what and how to play at the right time. But is there more we can do to craft our songs and services to creatively engage hearts and minds with the gospel? We'll look at the musical techniques for re-inventing songs, old and new; as well as thinking about our singing in relation to the Word, our space and visual media.

Music and Services for Small Gatherings: God has given us everything we need to hear from and respond to him, but sometimes it can feel like our small churches lack what's necessary to put together an effective and engaging church service. From less-than-ideal meeting spaces to out-of-tune singers, how do we best use the resources we have in crafting a service? At this seminar, we'll look at ways to overcome the practical and pastoral challenges of putting together a gathering for a small church, as well as making space for God's people to flourish in that environment. We'll think about how to build a service that facilitates genuine engagement with and response to God and his word, and how to motivate and train a small team, including the practicalities of music, technology, and the building/meeting space. Bring your questions and wisdom, and come along to learn together.   

Leading from Guitar and Piano: Many of our churches have just these two instruments, so how do we make the most of them? And how to we lead in a dynamic, engaged, complimentary way from these instrument? In this seminar, we'll unpack both the harmonic and rhythmic elements of great congregational leading, and provide the tools for pianists and guitarists to understand each other better and play together well.

Vocal Harmonies: Sometimes our lack of confidence with harmonies can mean we don't know where to start and we are too scared to try! This session will equip us with the key elements of hearing and singing a harmony in a way that supports the melody and creates a beautiful, full texture of vocals. We love that three part harmony!

A Career in Music Ministry? Conventional wisdom says that music is not something you should consider trying to build a career out of - much less in music ministry. But, encouragingly, many new training and career pathways are opening up, which are creating new possibilities and prospects for serving Christ through music. Learn about these opportunities, so you take your next step, or encourage someone you know who might be thinking of a career in music ministry.


What People Are Saying
Conference FAQs
What does the ticket price include?
The ticket covers all the sessions across the day, as well as a physical booklet (a digital copy is available for those who want to download it prior to the event) and refreshments.

Can I bring my child(ren) along?
We can't guarantee that the conference venue will have facilities suitable for kids, but please get in touch with us before the event so that we can look into this for you.

Should I bring my instrument along for the seminars?
Generally, no. But our pre-conference email will let you know if this is an option for your event.

What is your cancellation policy?
In the case of cancellation by a delegate, refunds are given until 2 weeks prior to the conference, but will incur a $10/£5 administrative charge. No refunds will be given within 2 weeks before the event date. In the case of cancellation by us (Emu Music), a full refund will be given. See below for cancellations due to Covid-19.

What is your Covid-19 policy?
We run our events according to current government guidance for Covid-19. If you have any symptoms of covid before the conference, please do not come. In the case of a cancellation due to covid symptoms or positive tests, a full refund will be given minus a small admin fee.
Can Emu run a Word In Song conference at my church?
We're always happy to talk about training opportunities for churches across the UK, Australia, Europe, and further afield. Please get in touch with us here to start a conversation about hosting an event at your church. 


---