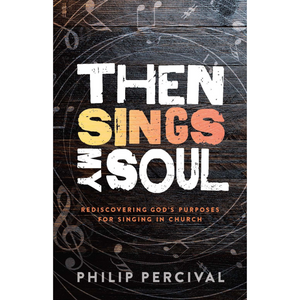 Then Sings My Soul (Book)
Regular price
Sale price
$10.00
Audio tracks and sheet music (purchased separately below) will be emailed to you as digital downloads. Tax included.
Shipping
for physical items calculated at checkout.
---
On its own' singing can never satisfy those desires that only true worship can. However, singing is the language of our affections. And it is used by God to plant the word of Christ in the hearts of those who long to be touched, filled and changed by his perfect love.
In Then Sings My Soul, Philip Percival takes us to the Bible to rediscover what it is that God has revealed about singing for his people, and encourages us to recapture the fullness of his design. He also provides plenty of practical advice about leading music in your church.
Whether you are a pastor, a musician or just someone who takes music seriously, this book will equip you to reignite a passion for singing together in response to God's amazing redemption of his people.
About the author
Philip Percival is a graduate of Moore College and has been directing music in churches small and large, rural and urban, for many years; most recently at St Ebbe's in Oxford. He helped found Emu Music - in which he continues to write songs and teach church musicians through the TWIST Conference ministry.
The topic of singing in the church has been the source of confusion and conflict for centuries. How refreshing to read a book that addresses the topic head on, without fanfare or emotional reaction, applying biblical principles to our practice of congregational song. If you thought worship was just about singing, this book will give you a more robust, multi-faceted, and dare I say, biblical, perspective. While most helpful for musicians, Then Sings My Soul will benefit any Christian who wants to sing God's praises in a more Christ-exalting, Scripturally driven, church-strengthening way.
Bob Kauflin
Director of Sovereign Grace Music, USA
We have had the privilege and joy of having Philip Percival on our staff team at St Ebbe's in Oxford for nearly ten years. All the reasons why he is such an outstanding Director of Music are combined in this book to produce an excellent resource for church musicians, pastors and the whole people of God. Here is deep biblical reflection on the theology if worship and singing, clearly expressed and practically applied to congregational life. May God use it to help his church engage more deeply with him, through the word in song, in heart and mind, for our spiritual good and his glory.
Vaughan Roberts
Rector of St Ebbes's Church, Oxford, UK and Director of the Proclamation Trust
For years Christians have enjoyed singing songs written by Philip Percival. It is great to read his understanding of the ministry of music. His keen theological understanding of the gospel and his years of experience in conducting the music ministry of churches makes him a great guide through what is often a troubling topic. Music should unite us in expressing our joy in the Lord and yet sadly causes division and unhappiness in church. Here is a book for pastors. musicians and all who want to think through the place of music in the purposes of God. 
Philip Jensen
Former Dean, St Andrew's Cathedral, Sydney, Australia